Killem Pest Interview with Leading Entomologist Dr How Yee Fatt
In the very first interview conducted for The Killem Blog, we are fortunate enough to speak Dr How Yee Fatt, a leading entomologist based in Singapore with Bentz Jaz Singapore Pte Ltd. Read on to find out about Dr How's exciting career and his thoughts on the pest control industry.
KILLEM PEST: Thank you for taking the time to speak to us today. Many people have not heard of the term 'entomology' or 'entomologist'. Could you please explain what these terms mean?
DR HOW: 'Ento' means insects, while 'logy' means the study. Therefore to put simply, entomology is the research or study of insects. The related scope consists of the taxonomy (identification and classification of insects), control of insects, insect biology, the importance of insects and others.
What is Entomophobia?
KILLEM PEST: What is your educational and professional background?
DR HOW: I completed my Bachelor of Science and PhD at the Universiti Sains Malaysia (USM) in Penang. I started a degree in Applied Biology but in my second year, we were required to select our major in several areas such as vectors and parasites, biotechnology, aquatic, agricultural or environmental biology.
I was contemplating pursuing either biotechnology or vectors and parasites (entomology). I was fortunate enough to meet Professor Lee Chow Yang, a leading entomologist in Asia who has since became my mentor. Professor Lee was very helpful and shared a lot about the study of vectors and parasites which made me realise the importance of this study. As a city boy, my only experience of insects was dealing with ants so the study of vectors and parasites offered something completely different for me. Within the vectors and parasites major, I specialised in urban and industrial entomology (rather than economic, agricultural or medical entomology)
During my degree I completed an industry attachment at the Institute for Medical Research (IMR) in Kuala Lumpur which was very interesting and really opened my eyes and confirmed that an entomologist really is like a doctor to insects. I was involved in facilitating the artificial mating of Anopheles mosquitos and surgically cutting open flies to remove their digestive tract to analyse the level of protein.
Upon completing my Bachelor degree, I straight went straight into my PhD. USM is a leading university in Asia for the field of entomology and having Professor Lee's continued mentorship support was important. As I could not decide what to specialise, Professor Lee suggested that the field of bed bugs was in its infancy (at that point in time) and there was an opportunity to be a pioneer in research and study for this insect. So, because of my interest and in wanting to be a pioneer, I decided to study bed bugs.
KILLEM PEST: Does Singapore offer any degrees or courses in entomology?
DR HOW: Entomology is offered as a course / elective in some Singapore universities, but not as a major. I understand that the courses here are focused mostly on molecular entomology (which is checking the classification of insects) and not so much the other fields (particularly Urban and Industrial Entomology).
KILLEM PEST: How long have you been working as an entomologist? How long have you been with Bentz Jaz?
DR HOW: Consider including the work that I carried out during my PhD after my degree graduation, I have been working as an entomologist for around 11 years. I started at Bentz Jaz right after completing my PhD, this was 6 years ago! When I was completing my PhD, there were two options: either continue an academic career or enter the industry. I chose the latter as I wanted to be involved in the practical and commercial side of insect control, rather than continue an academic career of research, publication and teaching.
KILLEM PEST: What has been the most interesting or memorable experience of your career?
DR HOW: For my PhD, I needed to get my own specimens of bed bugs to conduct my research. This proved challenging because I needed an appropriate specimen size, and also I wanted to study bed bugs in a real, practical context and based on the most natural way they feed, which is on real human blood, without any chemicals.
Since I wanted my results to be accurate, in the name of science, I 'donated' my blood to the bed bugs by letting them feed on me.
I have to say, I have never donated as much blood as I have during these years of research!
When bed bugs feed on you over time the way they did on me, you can feel your body change. The bit areas become swollen and the bites are extremely itchy, so you are also exercising very strong willpower and control in order to manage the symptoms. When I started, the bed bugs would feed on me for 2-3 hours per day. After 1 to 2 years, the bed bugs would feed on me for the whole night (12 hours) at least twice a week because I required larger sample size for my extensive research. I will never forget this experience during my PhD!
KILLEM PEST: Pests are a nuisance and they can carry disease or cause economic damage, yet they also play an important part in our ecosystem. Is it possible to completely get rid of them?
DR HOW: I will quote what my mentor, Professor Lee, said during the first entomology course: 'pests are defined by humans'. Not all 6-legged insects are pests, it really depends on the human lifestyle, for example, ants are a pest in Singapore, however in other countries they are a part of everyday life. It is important to know what the client's objectives are in wanting to eliminate pests, and then managing those expectations.
KILLEM PEST: Over the last few years, pest control has undergone significant changes, especially with the increased use of technology like electronic rodent monitoring bait stations and drones. What else do you think we can expect to see in the near future in terms of technology?
DR HOW: Many multinational life science and chemical companies such as Bayer and Sumitomo are inventing new active ingredients that are not yet introduced in the market. These new active ingredients are designed to work towards greener and more environmentally friendly pesticide usage.
There has also been a shift from oil-based fogging to water-based fogging to control mosquitoes and other flying insects.
The benefits of this is that the latter allows for odourless treatment that does not stain the area that is treated. Water-based insecticides are also lighter and so disperse quicker. On the point of mosquitoes, devices such as the ultrasonic can control mosquito larvae though non-chemical means.
Other equipment, such as the termatrac, have also evolved dramatically. The termatrac has revolutionised termite inspection practices by providing a 3-in-1 termite detection unit which includes the thermal sensor, moisture sensor and termite detection radar in one device.
Pest management software is also becoming more popular, especially in the US. These cloud-based systems eliminate the need for physical service reports because technicians can refer to the history of the client's premises via cloud. This allows them to refer to previous images, comments and use of chemicals easy and quickly, and reduces the amount of paper we use.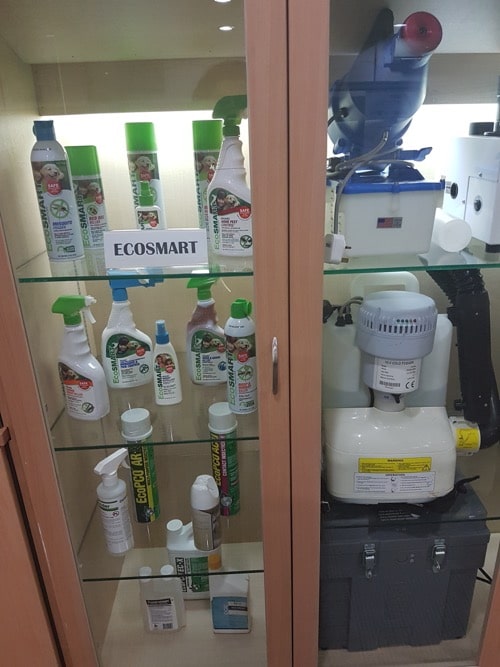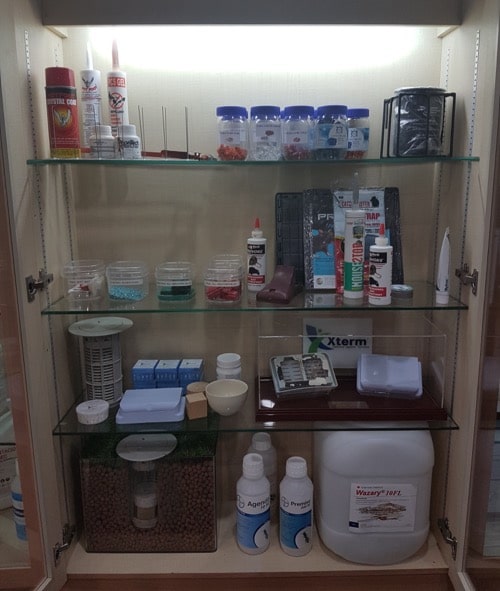 KILLEM PEST: Pest control plays a key role in public health. How do you think professional pest control providers like Killem Pest, and suppliers like Bentz Jaz can work together to ensure that pest control remains a key focus in public health?
DR HOW: We need to keep upgrading industry practices, standard operating procedures, improve the education of the public and improve on the safety, quality and delivery of services.
A critical point to highlight to clients is that the focus should be on long term pest management rather than on ad hoc services. A one day, one time treatment will not solve any pest problems, it is a remedy but not a cure. Integrated pest management is about customising the perfect solution for the client, which takes into account any concerns they might have, for example having pets or small children at home.
Bentz Jaz will continue sourcing for new active ingredients or application methods and working with providers of services such as Killem Pest in the application and implementation of the said methods.
In order to achieve this, transparency between parties such as Bentz Jaz, Killem Pest and the client are very important.
KILLEM PEST: Bentz Jaz has been involved in corporate social responsibility initiatives as well as trying to bring awareness about the industry, products and treatment methods to the public. What are some of the past events held and future events that we can look forward to?
DR HOW: This year we replaced our annual Dinner & Dance with a 'Plant-A-Tree-Programme' at Kranji Marsh. In total, Bentz Jaz and our partners donated and planted a total of 50 trees. We have also held educational programs for the public with workshops on explaining pests and how to deal with them. We want to continue organising events so that the public can understand the industry better.
KILLEM PEST: Thank you very much for your time. Do you have any closing remarks that you would like to share with the public?
DR HOW: Insect and pest management is not as simple as people may think and we really have to make an effort to understand insects. After all, you can only conquer your enemy when you know it well! How many different of species are there in the world? More than a million, so there is a lot that we do not know yet.